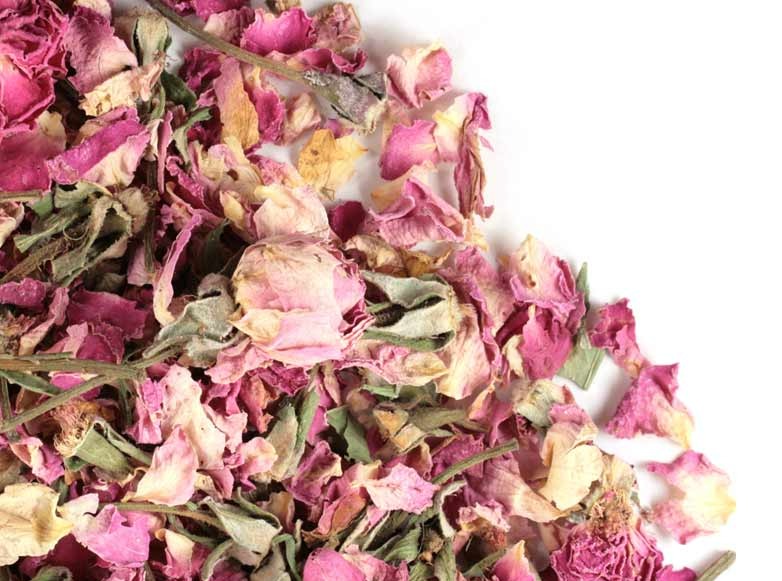 Net wt. 1.6 oz
Introducing our exquisite Dried Pink Rose Petals, a natural treasure packed with numerous health and skincare benefits. These carefully harvested petals are dried to perfection, ensuring their potency and preserving their beauty. Let's explore the remarkable advantages they offer:
Skin Revitalization: Dried Pink Rose Petals possess powerful antioxidants that help protect the skin from harmful free radicals and environmental stressors. They aid in rejuvenating tired, dull skin, promoting a youthful and radiant complexion.

Moisture Retention: Dried Pink Rose Petals have excellent hydrating properties, helping to maintain the skin's moisture balance. They assist in preventing dryness, providing a natural and gentle solution for nourishing and softening the skin.

Calming and Soothing: The natural oils present in the petals have soothing and anti-inflammatory properties, making them beneficial for sensitive or irritated skin. Using products infused with Dried Pink Rose Petals can help alleviate redness, irritation, and discomfort.

Anti-Aging Support: With their high content of vitamins A and C, Dried Pink Rose Petals contribute to the reduction of fine lines and wrinkles, promoting a more youthful appearance. They help stimulate collagen production, improving skin elasticity and firmness.

Stress Relief: The gentle aroma of Dried Pink Rose Petals offers aromatherapy benefits, promoting relaxation and stress relief. Infusing them in a bath or using them in potpourri can create a calming ambiance that aids in reducing anxiety and promoting a sense of well-being.

DIY Skincare Creations: Dried Pink Rose Petals serve as a versatile ingredient for creating your own natural skincare products. You can incorporate them into homemade face masks, toners, bath bombs, or floral-infused oils, allowing you to customize your skincare routine according to your specific needs.

Herbal Infusions: Steeping Dried Pink Rose Petals in hot water creates a delightful herbal infusion that can be enjoyed as a tea. The infusion is known for its potential benefits, such as promoting digestion, supporting immune health, and providing a calming effect on the body and mind.