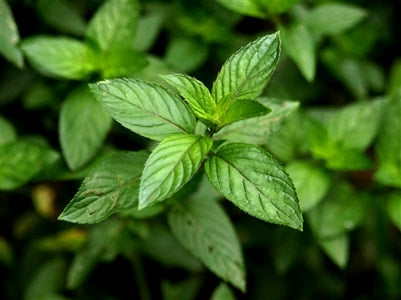 Peppermint
Mentha piperita
Origin: India
Method: Steam Distillation
Aroma: Medicinal, strong, penetrating, clean
Peppermint essential oil offers a range of benefits, including its invigorating aroma that can enhance alertness, focus, and mental clarity, making it useful for tasks requiring concentration. Its natural analgesic and anti-inflammatory properties make it valuable for relieving headaches, muscle aches, and joint discomfort. Peppermint oil's cooling sensation can provide relief from itchiness and irritation, while its antimicrobial properties can support skin health and help with acne. Additionally, it can aid digestion by alleviating symptoms such as bloating and indigestion. However, caution is advised as it's a potent oil; proper dilution and avoiding contact with sensitive areas such as face and genitals is crucial.
Use in a diffuser, personal aromatherapy inhaler, or dilute in a carrier oil for topical application.

For external use only. Do not use undiluted.