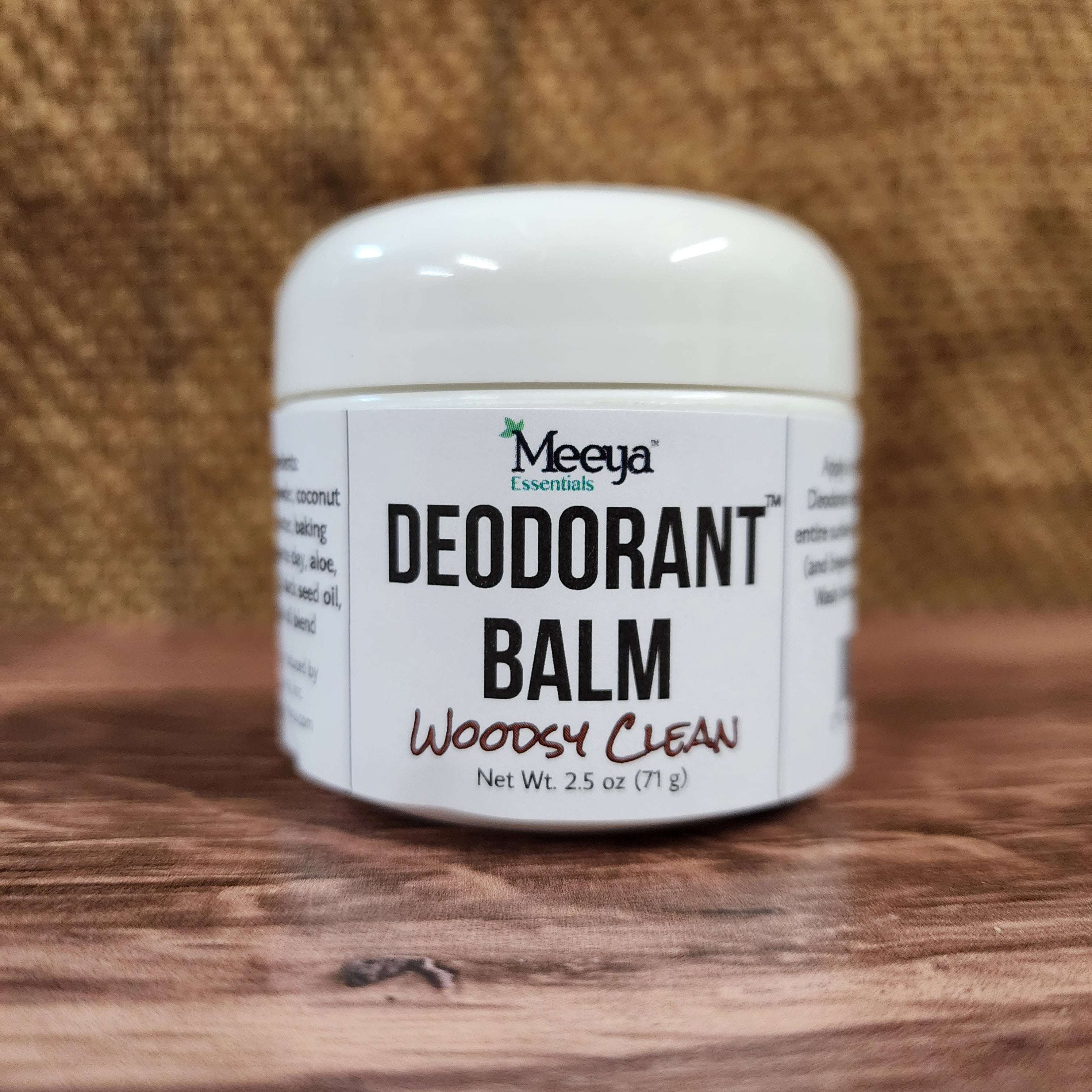 Deodorant Balm - Meeya Essentials
2.5 fl oz jar

Experience all-day freshness and confidence with Meeya Deodorant Balm, a luxurious blend of carefully selected ingredients designed to keep you feeling and smelling great. Our deodorant balm is thoughtfully crafted using a unique combination of natural and nourishing elements, providing effective odor control while caring for your skin.
Key Ingredients:
Arrowroot Powder: Derived from the arrowroot plant, this fine powder helps absorb moisture, leaving your underarms feeling dry and comfortable.

Coconut Oil: Renowned for its moisturizing properties, coconut oil gently nourishes and hydrates your skin, promoting a smooth and soft feel.

Shea Butter: Rich in vitamins and fatty acids, shea butter helps soothe and protect your delicate underarm skin, providing a gentle barrier against irritation.

Baking Soda: Known for its natural deodorizing properties, baking soda helps neutralize odors to keep you feeling fresh throughout the day.

Bentonite Clay: This natural clay helps detoxify and purify your underarms, aiding in the absorption of impurities and excess oils.

Aloe: Renowned for its soothing properties, aloe vera calms and hydrates the skin, leaving it feeling refreshed and revitalized.

Safflower Oil: A light and nourishing oil, safflower oil helps moisturize your skin without leaving a greasy residue, promoting a silky-smooth texture.

Black Seed Oil: Packed with antioxidants and essential fatty acids, black seed oil assists in maintaining the overall health of your skin while providing additional nourishment.

Essential Oil Blend: A thoughtfully curated blend of natural essential oils adds a delightful fragrance to the deodorant balm, leaving a subtle, fresh scent.
Meeya Deodorant Balm is free from harsh chemicals and aluminum compounds, allowing your skin to breathe naturally. With its gentle yet effective formula, it offers long-lasting protection against odor, giving you the confidence to embrace every moment without compromise.
Directions for use: Simply take a small amount of Meeya Deodorant Balm and apply it to clean, dry underarms. Gently massage until fully absorbed, and enjoy the soothing sensation and invigorating scent. Reapply throughout the day as needed.
Deodorant Balm - Meeya Essentials